Swansea Building Society and Swansea City AFC unite to 'Tackle Cancer Together' with the Launch of 2023-24 charity kit.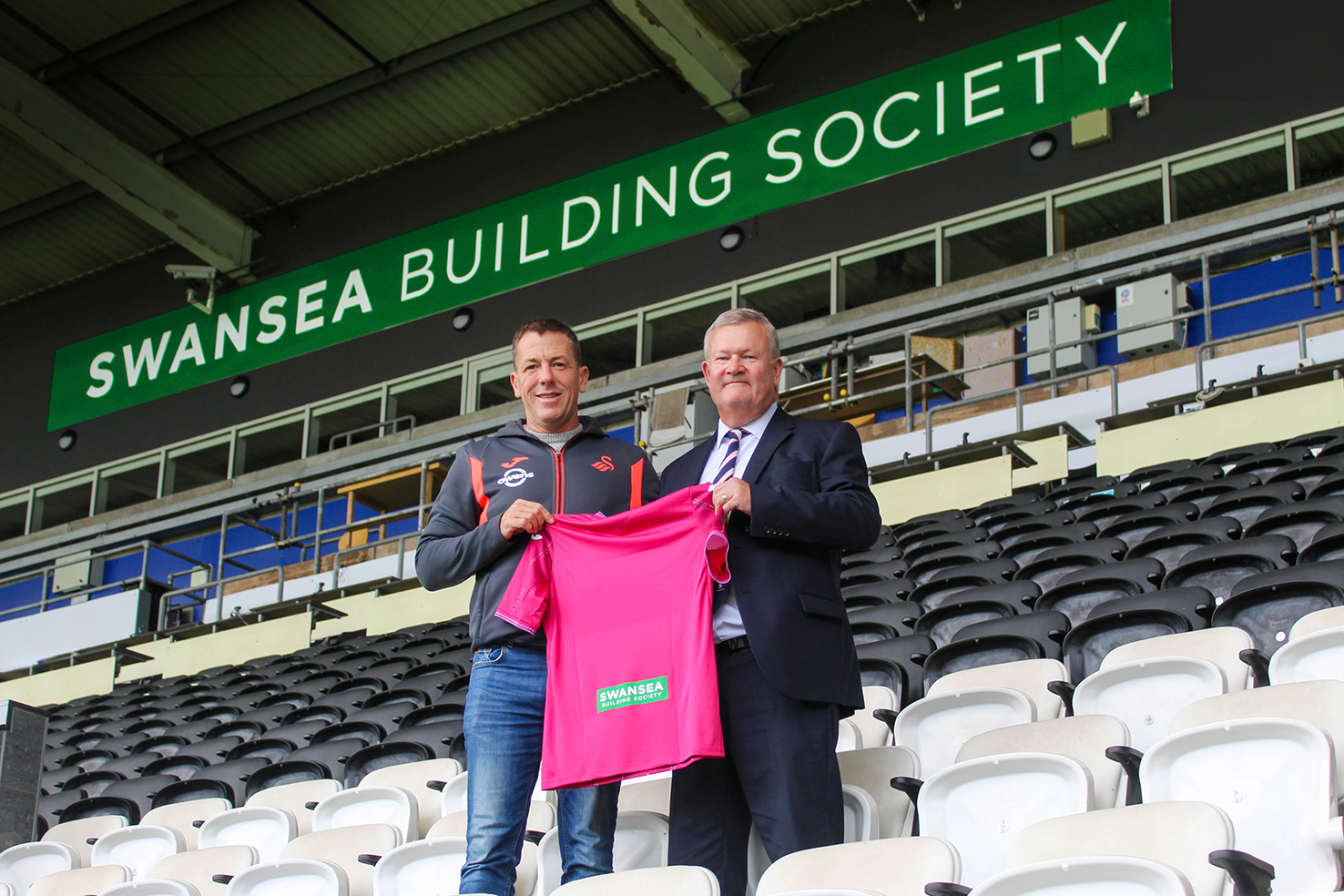 We are delighted to have renewed our partnership with Swansea City Football Club for the upcoming 2023/24 season. Building on our successful three-year sponsorship deal, we will proudly feature as the back of shirt sponsor, showcasing our logo on all the club's kits. As part of this exciting collaboration, we are thrilled to jointly unveil the club's much-anticipated third kit for the 2023-24 season, designed with a special purpose to support the campaign 'Tackling Cancer Together.'
The football club has joined forces with cancer charity Maggie's – also our official staff charity for 2023 – for the 'Tackling Cancer Together' campaign. The Maggie's logo will feature prominently on the kit's pink shorts throughout the forthcoming season. As well as featuring our Society's logo on the back, the third kit also bears the logo of another local business showing support for Maggie's: Westacres.
The innovative design of the third kit, crafted by Joma, includes spots of various colours representing some of the most common types of cancer. This powerful visual statement demonstrates the club's commitment to the cause and underscores the importance of solidarity in fighting cancer.
As part of this initiative, an amount from the sale of each jersey will be donated to Maggie's to aid the outstanding work at its Swansea centre, located in the grounds of Singleton Hospital, and we are also pledging to donate £1 for every one of these special kits sold.
Celebrating the centenary year of our establishment, we are proud to have reaffirmed our commitment to supporting the city of Swansea and its communities. This dedication extends beyond football, as we have embraced various charitable initiatives and community projects, including our donation of over £100,000 to local charities.
Katie Doyle, Head of Marketing, Swansea City AFC, said:
"This is more than just a shirt. This shirt – and the wider campaign around it – has the power to raise awareness for something close to us all. With the help of our supporters, the local community and Maggie's, we hope to draw attention to all forms of cancer through fundraising efforts across the 2023-24 season.
"Most of us have sadly been touched by cancer, be it a family member, a friend, a colleague or even people who have been diagnosed themselves. The incredible team at Swansea City have been working tirelessly on this project for the best part of 12 months and are extremely passionate about encouraging people to talk and raise awareness.
"Our dedicated webpage will allow fans of all clubs to share their stories, because whether you have been personally affected or a loved one has, you are not alone. I know this campaign will resonate with fans of all football clubs, with the aim that we can all tackle cancer together."
Lucia Osmond, Centre Fundraising Manager at Maggie's Swansea, added:
"Maggie's is thrilled to feature on Swansea City's third kit, which has launched ahead of the 2023-2024 season. Aside from fundraising plans, the focus on cancer awareness is so important, and we will work with the club this year to bring lots of relevant information to the fans and the wider community around what Maggie's can do to support people with cancer."
Alun Williams, our Chief Executive, said:
"It's a wonderful opportunity for the Society to continue its support for Swansea AFC as the back of shirt sponsor for the upcoming season on all the club's kits. We share a long and rich history with Swansea City AFC, along with a deep commitment to the city of Swansea and its communities.
"The 'Tackling Cancer Together' campaign embodies the spirit of unity and compassion that both Swansea Building Society and Swansea City Football Club hold dear. Together, we aim to make a positive impact, not only on the football field but also in the lives of those affected by cancer.
"In our centenary year, having achieved remarkable results and significant milestones, we deemed it essential to renew our commitment to the city's football club and our shared community. We extend our best wishes to the club for the upcoming season and beyond, as we continue to foster growth and success together."
Established in 1923, Swansea Building Society is a leading financial institution headquartered in Swansea, UK. With branch offices in Mumbles, Carmarthen, and Cowbridge, the Society provides personalised savings and mortgage products to the South Wales area. Swansea Building Society is committed to serving its members and customers with a tailored and flexible approach, helping individuals and families secure their financial goals.