Golfers club together to raise record funds for DofE Wales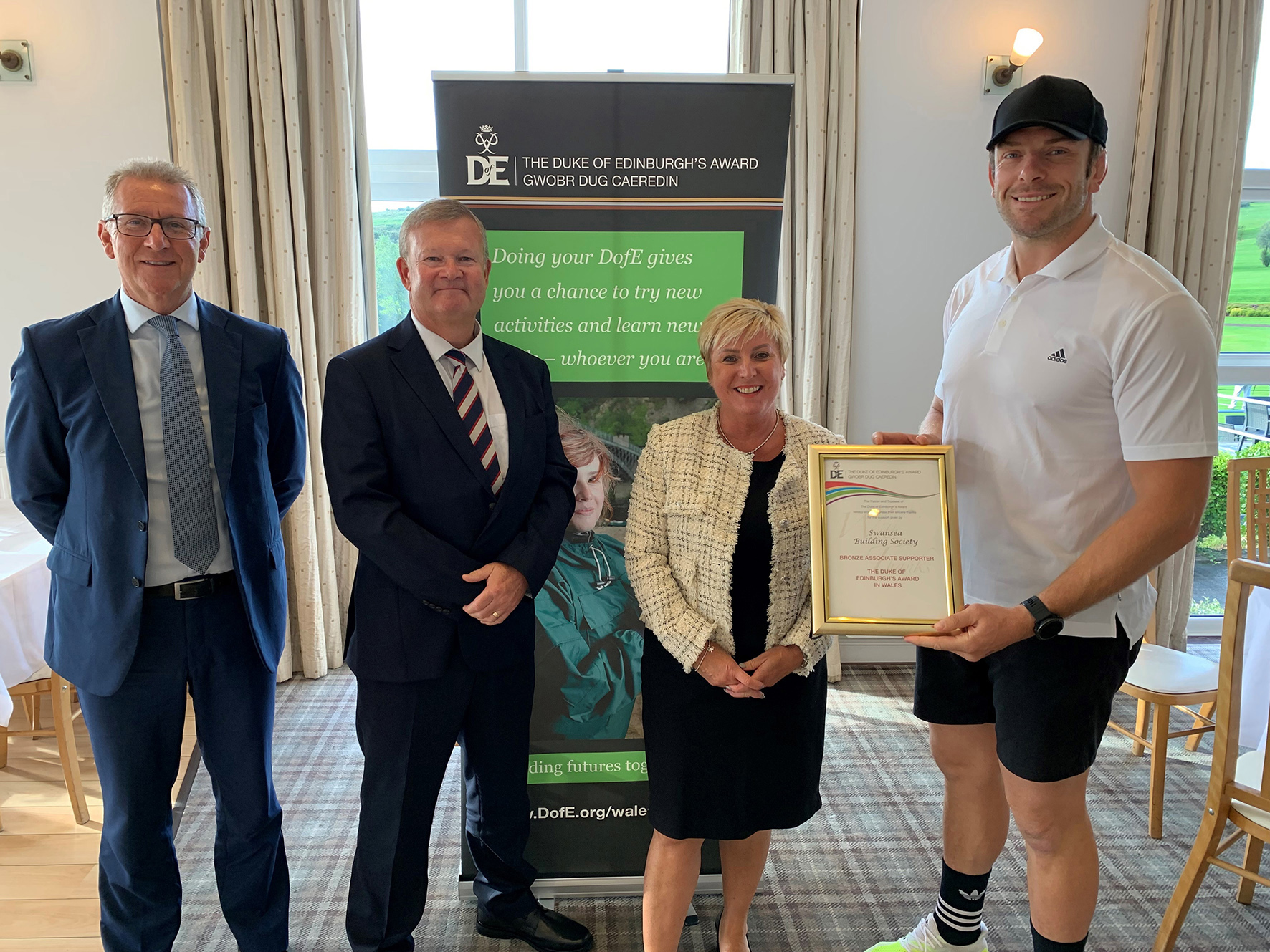 We are very proud to have been the main sponsor as golfers from across South Wales came together at Langland Golf Club to compete and raise funds for Duke of Edinburgh Award (DofE) Wales, in partnership with ACCA Cymru, at its annual charity golf day.
The event saw 14 teams compete in this year's annual fundraiser, held on September 27, 2021. The total amount raised, via entries and sponsorship, was £4,000 – a new record for the event.
This year also saw the event's first-ever hole in one. Geoff Thomas of team RMS – Retail Merchandising Services/Flex Systems managed to get to the pin with one shot on Langland's iconic 16th hole – famously known as the club's 'death or glory' hole.
The competing teams were joined by DofE gold alumni and current Wales and British and Irish Lions captain, Alun Wyn Jones, who presented our Swansea Building Society representatives Tony Rees, Alun Williams and Jane Parker with a Bronze associate supporter certificate in recognition of the Society's continued sponsorship of DofE Wales.
DofE Wales is the Welsh regional division of the Duke of Edinburgh Awards, founded by HRH Prince Philip. The awards are open to 14 – 24-year-olds, with three progressive levels – Bronze, Silver and Gold.
Each award has a number of sections to complete, involving helping the community and/or environment, becoming fitter, developing new skills, planning, training for and completing an expedition and, for gold only, working with a team on a residential activity.
Any young person can do their DofE award, regardless of ability, gender, background or location. The aim of the award is to gain essential skills and attributes for work and life such as resilience, problem-solving, team-working, communication and drive.
DofE awards are also seen as enhancing young people's CVs, with many employers and universities recognising the award in their recruitment process.
Ian Gwilym, DofE Wales senior relationship manager, said:
"It was fantastic for DofE Wales to run our first live event for some time in the wonderful setting of Langland Bay Golf Club. Due to the support of our new bronze associate, Swansea Building Society, we were able to raise significant funds for the charity and help make more young people be the best they can be!"
Alun Williams, our chief executive officer, said:
"We are delighted to have sponsored this year's DofE Wales charity golf day at the beautiful Langland Golf Club. The event raised a considerable sum for the charity, and we were very proud to have been presented with a bronze associate supporter certificate from rugby legend, Alun Wyn Jones.
"DofE Wales is a fantastic organisation giving great opportunities and experiences to young people from all backgrounds across Wales. The life skills these young people learn during the DofE programme are invaluable and will stand them in very good stead throughout their adult life."