Swansea Building Society's elves raise money for Alzheimer's Society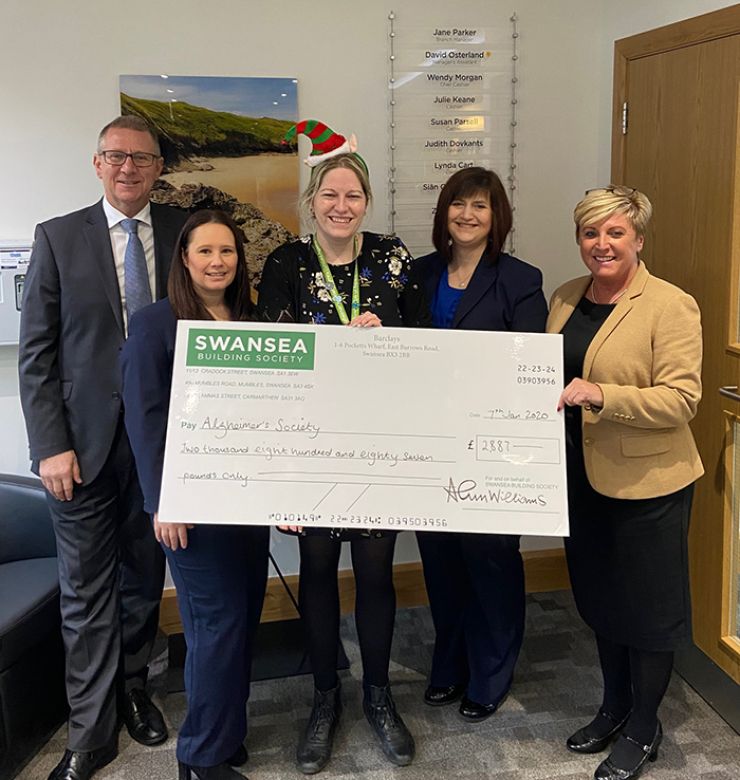 Swansea Building Society has donated nearly £3000 to the Alzheimer's Society.
Branch managers Jane Parker and Tony Rees, of Swansea and Mumbles branches respectively, led an elf-themed festive fundraising effort in December that raised over £1,400.
Swansea Building Society's chief executive Alun Williams agreed to match the donation and a cheque for £2,887 was handed to Alzheimer's Society representative Emma Moore, the community fundraiser for Bridgend, Neath, Port Talbot and Swansea, on January 7.
National Elf Day is an annual fundraiser for the Alzheimer's Society, which most recently took place on December 6 2019. Swansea Building Society staff thought it a great opportunity to spread some festive cheer in Swansea and Mumbles branches by hosting an "Elf Week". Throughout the week, staff came to work dressed up in their Elf regalia to greet customers.
Swansea branch was decorated with bunting with naughty elves placed at each till position, much to customers' amusement. Hamper donations were gathered from staff members and then a selection of festive food and drink hampers were raffled. Customers joined in the festive fun and showed their support and generosity by buying raffle tickets and offering donations. Cashiers hosted a cake stall and sold delicious home-made cakes and cookies.
Members of staff at Swansea Building Society's head office, which is also based in Swansea, cooked breakfast rolls and sold them to staff members, which also contributed to the funds collected.
The Alzheimer's Society is a care and research charity for people suffering from dementia and their carers. The charity raises money to support those living with dementia and their families affected by working to improve their quality of life. It also raises money to find new treatments and to research a cure for the disease.
The charity provides information, training and support to those who need it while hoping to create a more dementia-friendly society "so people with the condition can live without fear or prejudice".
Swansea Building Society's chief executive Alun Williams said:
"I'm hugely impressed by the amount of money the staff managed to raise – and they also raised a lot of smiles too. I'd like to congratulate them all on a superb fundraising effort. Our staff always really pull together to raise money for charities, and this fundraiser was no exception. I think everyone is hoping to see the elves return in 2020!"
Emma Moore, the Alzheimers Society's community fundraiser for Bridgend, Neath, Port Talbot and Swansea said:
"The amount that Swansea Building Society managed to raise between just 2 branches over the course of their 'elf week' is incredible. Jane, Tony and all the staff looked elf-ceptional and we're so very grateful for the support. There are nearly 50,000 people living with dementia in South Wales, and with someone developing dementia every 3 minutes this number is only set to rise. This money will help to provide vital support for people living with this disease in Wales now, and to provide hope for the future by continuing to research into a cure. Diolch yn fawr to all the staff and customers at Swansea Building Society."