Proud to continue support for Maggie's at its annual ball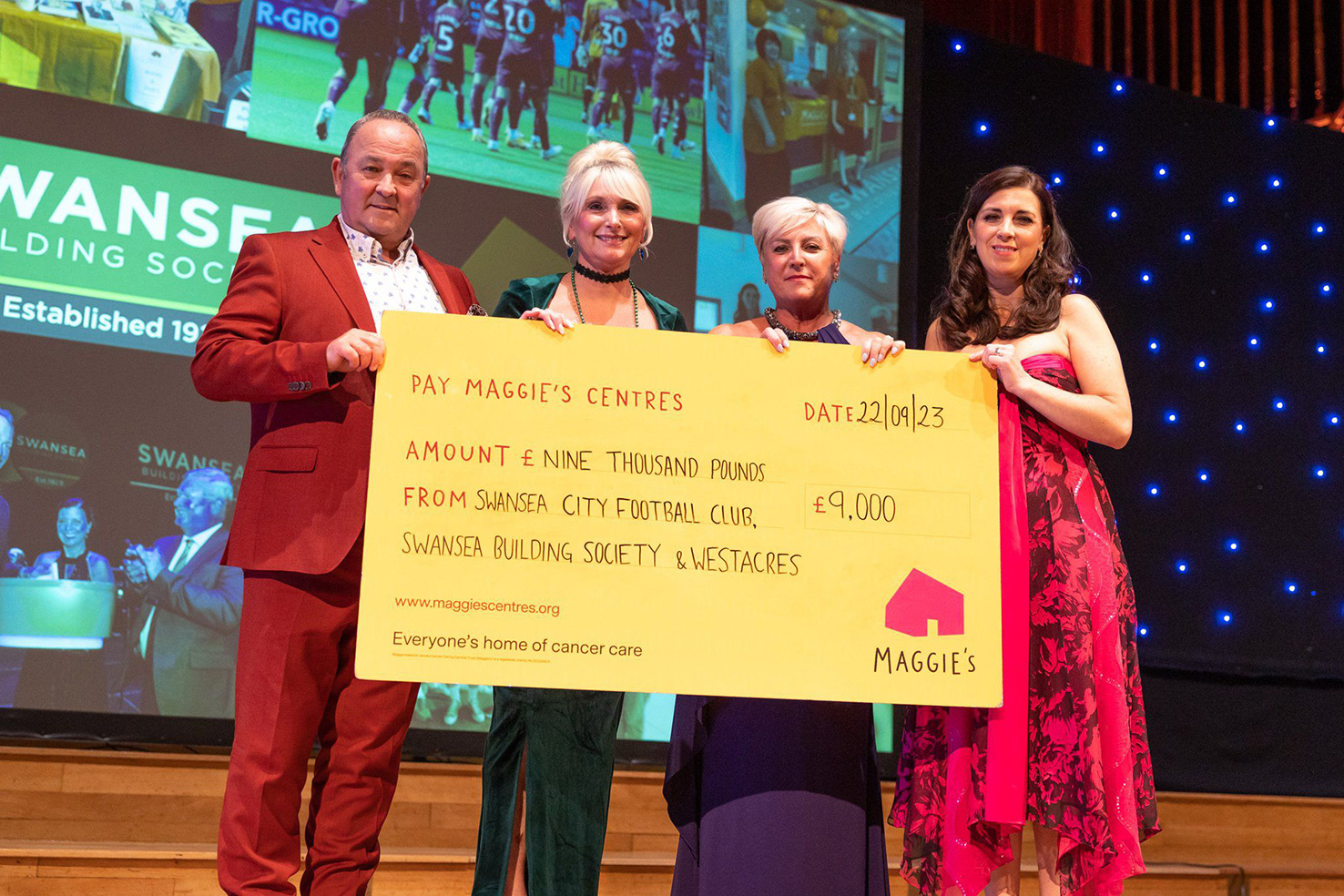 We were delighted to continue our support for our official staff charity, Maggie's Swansea, by acting as headline sponsor at the charity's annual ball, held at the Brangwyn Hall, Swansea, on Friday September 22, and providing the charity with an additional sizable donation on the night.

Our Society, alongside luxury home developers, Westacres, and Swansea City AFC, each donated £3,000, collectively providing Maggie's Swansea with a £9,000 boost. This joint total was raised through the sale of the pink 'Tackling Cancer Together' Swansea City AFC kit for the 2023/4 season, of which both our Society and Westacres are sponsors.

The total funds raised during the evening reached an impressive £53,000, thanks to the generosity of the 280 guests in attendance, alongside contributions from the key sponsors. These funds will go towards supporting the £700,000 needed to keep Maggie's Swansea open annually.

Located at Singleton Hospital, Maggie's Swansea provides free practical, emotional, and social support to people with cancer, as well as their families and friends. The centre works in collaboration with conventional cancer therapies, offering a caring environment to provide support, information, and practical advice. This includes financial and benefits advice, support with treatment decisions, and access to other cancer services. In addition, Maggie's Swansea also provides nutrition workshops, complementary therapies, and other services.

As a charity, Maggie's relies on donations to continue its important work, and we are proud to have contributed to the charity multiple times over recent years.

In addition to the £3,000 donation for sales of the Swans kit, our staff have voted Maggie's its official staff charity for two years running and have been dedicated to raising funds through various initiatives. These efforts have included serving refreshments to customers in exchange for donations, organising raffles, participating in events like the Swansea Half Marathon, open water swimming, and a sponsored dog walk.

The total raised during 2022 was £18,910, helping the charity to continue to deliver its vital services. This year, we hope to surpass last year's total and make an even bigger difference to the lives of those affected by cancer.

Alun Williams, our Chief Executive, said:

"We're delighted to make this substantial contribution to our official charity, Maggie's Swansea, which was made possible through the sale of the Swans pink charity kit. The 'Tackling Cancer Together' campaign embodies the spirit of unity and compassion that both Swansea Building Society, Westacres and Swansea City Football Club hold dear.

"Maggie's plays a crucial role in supporting individuals and families dealing with cancer, providing essential information, practical financial advice, and emotional support. The work the charity does is vital in helping people live life to the fullest, even in the face of this challenging disease."

Lucia Osmond, Centre Fundraising Manager at Maggie's, said:

"We are deeply thankful to Swansea Building Society, Westacres and the Swans for this generous donation. Maggie's provides essential cancer support services to those in need, and contributions like this are instrumental in ensuring we can continue our mission. The funds and awareness which have been raised by the 'Tackling Cancer Together' campaign and the sale of the pink Swans kits has been wonderful, and we extend our thanks also to all those who have bought the kit and so helped to bring about this sizable donation."