Celebrating our centenary with a spectacular 100-Year Ball which raised over £4K for Maggie's charity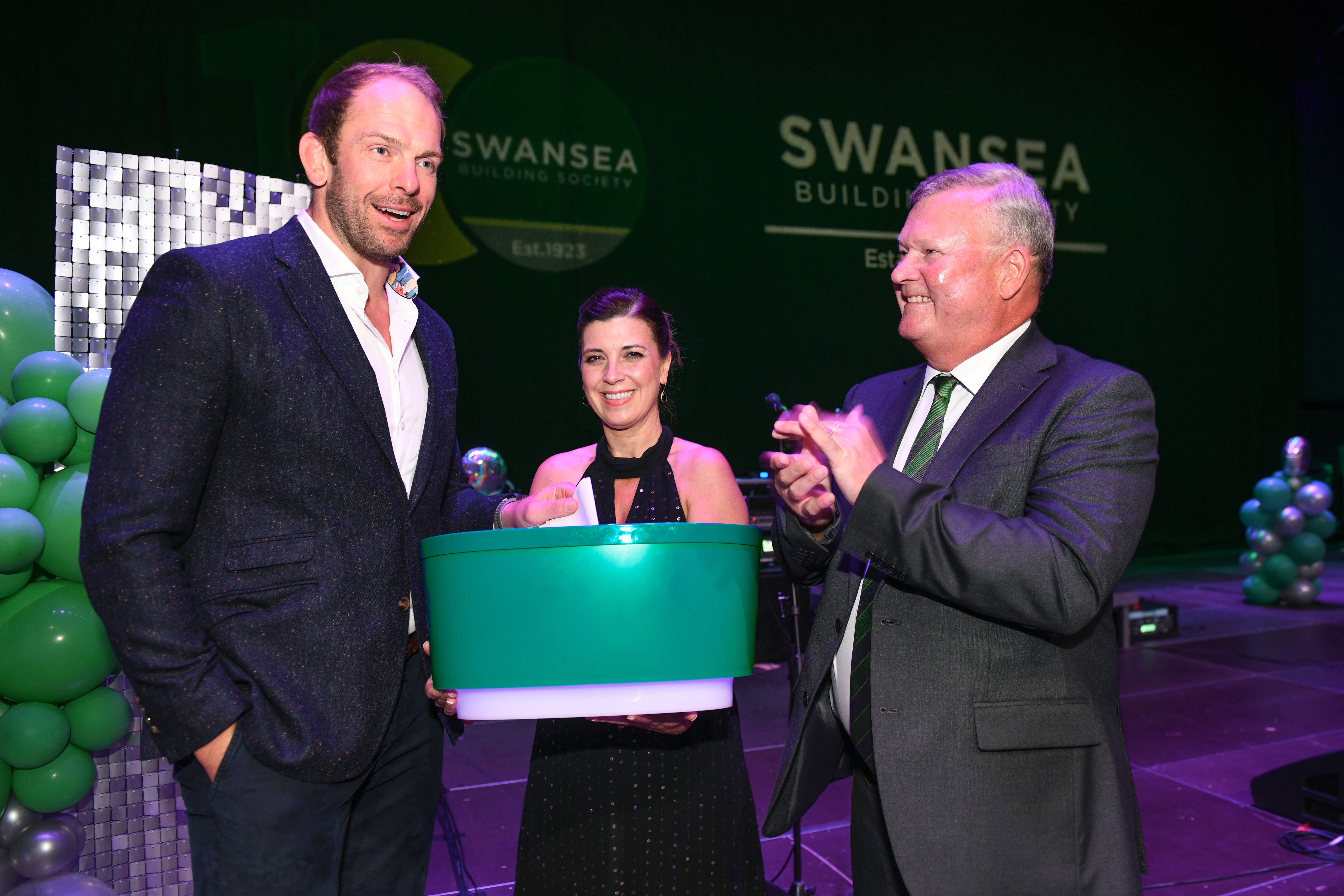 We were overjoyed to celebrate our milestone centenary anniversary with a grand and unforgettable 100-Year Ball, held on Friday, June 30, at Swansea Arena. The event also raised a total of £4,360 for our official staff charity, Maggie's Swansea, thanks to match funding by the Society.

The Centenary Ball, hosted by singer, actor and comedian, Wynne Evans, brought together our dedicated staff, past and present, as well as esteemed Non-Executive Directors, valued external partners, local dignitaries, and collaborators from Swansea and beyond. The attendance of local dignitaries, including The High Sheriff of West Glamorgan, Alan Brayley VR DL, and former Wales and British and Irish Lions Captain, Alun Wyn Jones, underscored the significant impact our Society has had on the communities we serve. Our commitment to helping the people of Swansea and its surrounding areas, through our charitable endeavours, and our dedication to helping foster economic growth in the region, through the provision of our financial services, has forged lasting partnerships which we celebrated on the night.

Many of the Society's external partners, who have been integral to our success over the years, were also present at the ball. Their collaboration and support have been instrumental in enabling us to provide the exceptional financial services we are recognised for. The ball was a glittering affair, marked by a captivating blend of nostalgia, celebration, and heartfelt gratitude towards all those who have contributed to the Society's remarkable journey over the years.

As our centenary year continues to unfold, we remain steadfast in our mission to provide exceptional financial services, tailored savings and mortgage products, and a personal, face to-face approach that prioritises the financial goals and well-being of our customers.

Alun Williams, our Chief Executive, said:
"Last night's 100-Year Ball was a truly unforgettable celebration of our Society's century of service. We were honoured to have our dedicated staff, esteemed Non-Executive Directors, valued partners, local dignitaries, and cherished collaborators join us in commemorating this remarkable milestone. The evening was a testament to the enduring spirit and unwavering commitment that has propelled Swansea Building Society to success for the past 100 years. "We extend our heartfelt thanks to all who have been a part of our journey and look forward to continuing to serve and support our community for many more years to come."