Walk raises £6K thanks to our match fund donation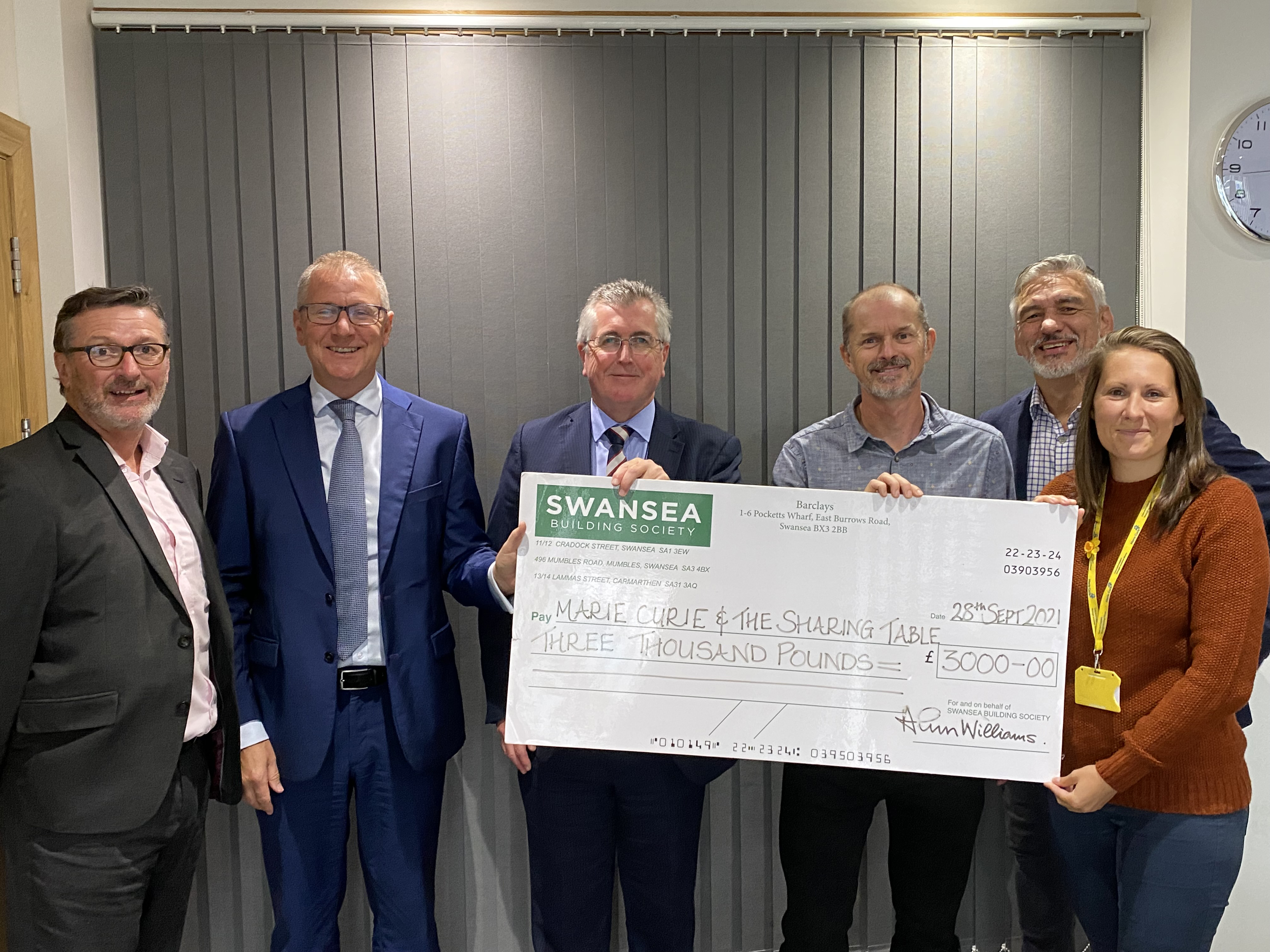 Three of our staff members have completed a sponsored walk from Rhosilli to Mumbles to raise funds for charities The Sharing Table and Marie Curie. The Society pledged to match the funds raised, donating £3,000 to the overall total of £6,000.
The walk – a distance of just over 20 miles – was undertaken by our very own Tony Rees, Martin Lewis and Nathan Griffiths, accompanied by around 30 other walkers, including members of BNI Swansea and the MP for Gower, Tonia Antoniazzi.
Our cheque for £3,000 was handed to Andrew Copson, from The Sharing Table, and Alison Discombe, from Marie Curie, at our Portland Street office. Also in attendance was BNI representative, Ian Bateman.
One of the beneficiaries of the funds, The Sharing Table, is a charity with a vision of the community sharing its resources and providing enhanced life opportunities for disadvantaged children and families in Swansea and Gower. Provision of food for those struggling to feed themselves and their families is at the heart of its purpose. However, the charity also believes that the community can provide much more: opportunities to build self-esteem, learn new skills, have new experiences, and access richer and happier lives.
The other beneficiary of the funds, Marie Curie, is the UK's leading end of life charity. It provides frontline nursing and hospice care, a free support line and a wealth of information and support on all aspects of dying, death and bereavement.
MP for Gower, Tonia Antoniazzi, said:
"It's fantastic news that £6000 has been raised for Marie Curie and The Sharing Table. I want to thank everyone who has taken part and generously donated. I also want to thank Swansea Building Society for their pledge to donate and match what was raised. This will go a long way to support families in Swansea and Gower over Christmas through The Sharing Table, as well as supporting the fabulous on-going work of Marie Curie."
Andrew Copson, Trustee at The Sharing Table, added:
"It was a great effort by the walkers to raise so much and it was fantastic to hear that Swansea Building Society, a substantial local business, wanted to support its local community with such a generous donation to support The Sharing Table. We are a local charity which aims to help our neighbours on Gower who could do with a helping hand this Christmas."
Ali Discombe, community fundraiser for Marie Curie, said:
"We are extremely grateful for the support offered from Swansea Building Society as well as from all the local businesses that were involved. The funds donated will make a substantial difference to local communities, ensuring that those with terminal illness can make the most of the little time they have left."