If only there were more savings organisations as customer focused as Swansea Building Society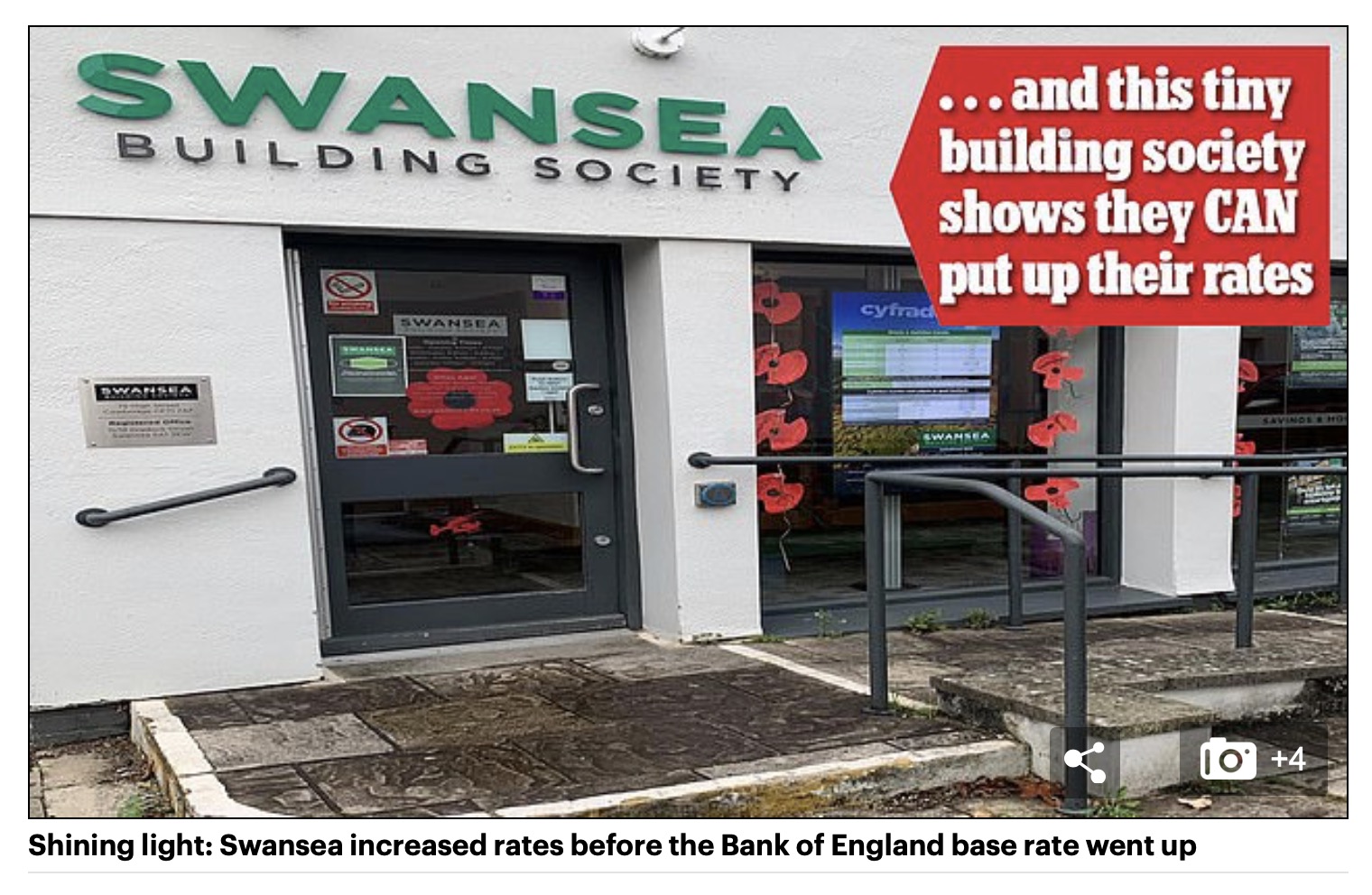 So says the Mail on Sunday's Give Savers A Rate Rise campaign
An article published in the Mail on Sunday on January 9, 2022, as part of its 'Give Savers A Rate Rise' campaign, has applauded the Society for our customer-focussed approach and our swift action to increase interest rates on our savings products.
The article also highlighted the failure of all big savings institutions (excluding the Government's own retail arm NS&I) to treat savers fairly and increase interest rates, despite the Bank of England's December increase in base rate.
Here at Swansea Building Society, we are extremely proud to be one of only two building societies in the UK to have already increased interest rates, with the increase on all Society savings accounts having come into effect on January 1, 2022.
Our decision to make this increase was taken prior to the rate change announced in the Bank of England's (BoE) base rate in December, with all our savings account interest rates having now been increased by 0.15% – matching the BoE increase in base rate.
The Society is also praised in the article for our generous rates for Instant Access and Cash ISA products, with rates of 0.5 and 0.55 per cent respectively.
A number of well-known retail banks and building societies have come in for considerable criticism by the campaign for their failure to make any increase in interest rates, despite hiking up mortgage rates for customers.
Data from the end of November last year shows the average interest rate on savings accounts across banks and building societies in the UK was just 0.09 per cent, compared to base rate of 0.1 per cent. This means that many of the high street banks were and still are paying considerably less than 0.09 per cent – with some paying as little as 0.01 per cent.
So says the Mail on Sunday's Give Savers A Rate Rise campaign.
Our Society has also been commended for our reputation of providing considerate treatment to savers. When base rate was cut from 0.75 to 0.25 and then 0.1 per cent in March 2020, we did not cut savings rates until May of the same year in order to provide more stability for our customers.
This is in stark contrast to the majority of savings institutions, who have been criticised for decreasing savings rates quickly and to a greater degree when the base rate is cut and increasing more slowly and by less when the base rate rises.
Our chief executive, Alun Williams, explained the decision to make the interest rate rise to The Mail on Sunday:
"It was the right thing for us to do. We gambled and we could have been under water for a while if base rate had not gone up. But we wanted to give a little cheer to our savers. It has been a terrible time to be a saver."
As well as increasing interest rates, we have made several other changes to our range of savings accounts, which are aimed at making things more straightforward and flexible for savers. For more details, click here.
To read the full Mail on Sunday article, click here.