Head of Savings, Richard Miles, raises funds for Movember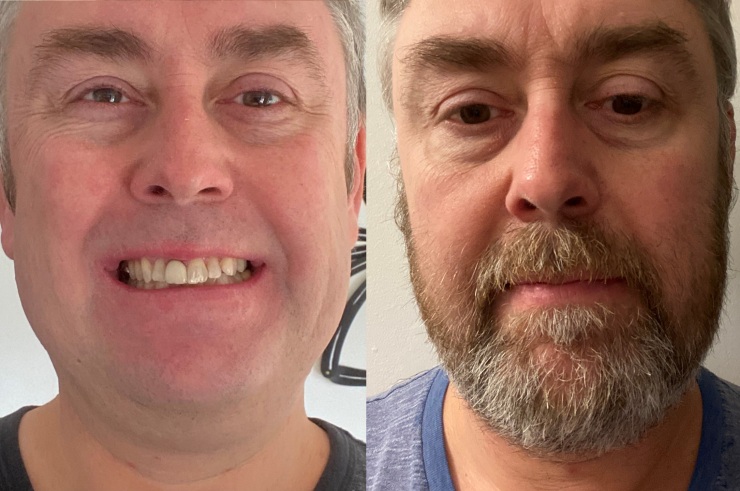 It's wonderful to be able to raise a smile at the same time as raising funds for very worthy causes. So, it's great news, here at Swansea Building Society, that our Head of Savings, Richard Miles, decided to grow a mighty 'MO' for the Movember Campaign.
Popular with the Celts, medieval knights, Victorian gentlemen, artists, philosophers, musicians and entertainers – from Salvador Dali and Fredrich Nietzsche to Errol Flynn and Freddie Mercury – the moustache has, over the centuries, been more fashionable at some times, less so at others – but has never disappeared entirely.
Derived from the ancient Greek word 'mustax', meaning upper lip, our French-English (probably Norman) version 'moustache', has come to represent that most iconic of male facial adornment, with an inordinate number of comedy and slang names, guaranteed to raise a smile.
Lip weasel, face furniture, cookie catcher, lip luggage, soup strainer – and many more that are too rude to mention here – the moustache is most often, these days, sported with a certain degree of knowing comic irony.
November or 'Movember' has, for the past few years, been the time when men around the world have refrained from shaving their top lip in order to raise funds and awareness for men's health.
From humble beginnings in Australia in 2003, the Movember movement has grown to be a truly global one, inspiring support from over 6 million Mo Bros and Mo Sisters around the world and raising money for over 1,250 men's health projects since its inception.
The main areas of focus for the campaign are raising awareness and funds for prostate and testicular cancer and, more recently, male mental health and suicide prevention. The movement aims to tackle these serious issues at the same time as allowing its participants to have fun – in their words: havin' fun, doin' good.
Here at Swansea Building society, we're very happy, therefore, to have supported Richard in his fundraising efforts by more than doubling the amount he raised, which totalled £440, and have rounded the total up to £1,000!
Richard Miles, our Head of Savings, said:
"I think that the serious issues the Movember campaign tackle are very important. Us men are notoriously bad at looking after our own health and even talking about it. By having a bit of fun and growing a moustache for the month, I believe we can open up discussions around these topics, remove the stigma and taboo that often surrounds them, and raise funds for treatment and prevention of diseases that claim many men's lives every year."

"Growing my Mo certainly raised a few comments and smiles – which is the whole idea. By the end of the month, my daughter thinks I should have looked like Hopper off the Netflix series Stranger Things, though my moustachioed hero is probably Dave Grohl from the Foo Fighters!"