We return to our live AGM and donate to Maggie's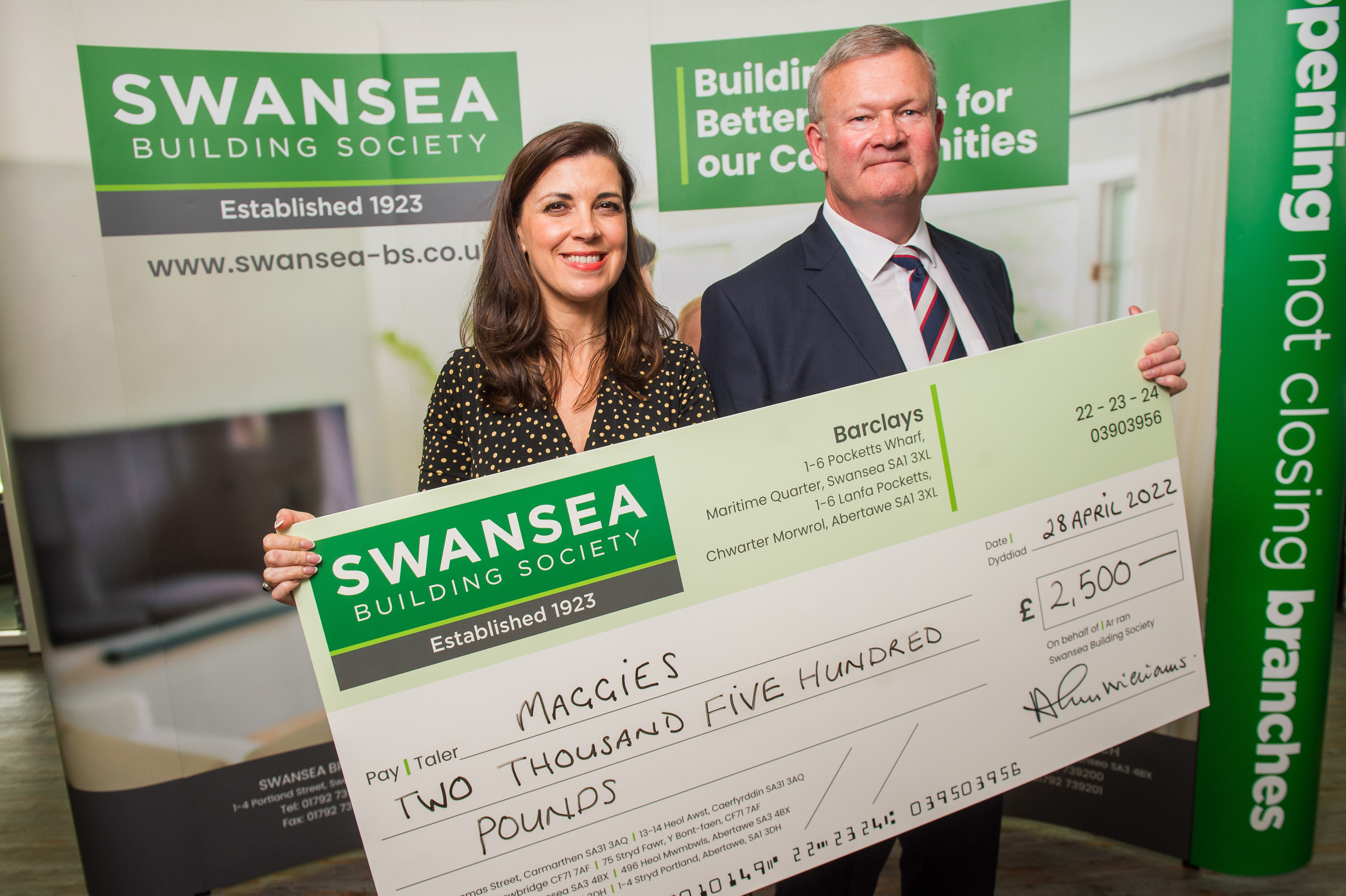 For the first time in three years, due to previous COVID-19 restrictions, we held our annual general meeting (AGM) as a live, face-to-face event again – at the Swansea.com stadium on Thursday, April 28. We also presented a substantial cheque to our official partner charity, Maggie's, donating more than a pound for each vote received.

At the event, we presented a cheque for £2,500 to cancer charity Maggie's, a figure rounded up based on the 1749 votes we received from our members.

At the event, the Society's board presented and explained our best-ever set of results to members as we benefitted from supporting local communities by keeping our growing network of local branches across South Wales open through the pandemic while reaping the rewards of an investment programme we started in 2015. Our total assets, mortgage balances, savings, capital and profits all reached record highs last year.

Some of the other highlights of the AGM included the introduction to members of new non-executive director Malcolm Hayes, an experienced banker with more than 40 years' experience, and Catherine Griffiths, the Society's first female executive director who has 25 years' experience in finance.

The full set of results can be found here.

Alun Williams, our Chief Executive, said:

"It is good to be back and able to hold this event in a face-to-face format again. It has been a remarkable 12 months for the Society, and it is pleasing to mark that by bringing members and stakeholders together again. We are also very proud of the communities we represent, and we are delighted to be able to support a very important charity like Maggie's in this way."

Lucia Osmond, Centre Fundraising Manager, Maggie's, said:

"We really appreciate the support of companies such as Swansea Building Society. We cannot do what we do without such support, which makes such a difference to local communities. Such funds are all used locally to support individuals facing challenges associated with cancer. Thank you so much."

For the 12 months to December 31, 2021, the Society's total assets increased by £49.1 million to £463.5 million, a 12% increase on the previous year's figure. Our mortgage balances grew by £58 million to £360.9 million, a growth rate of 19%. This record growth was driven by completing lending of £114.7 million, an increase of 71% from the £67.1m achieved in 2020.

The Society's savings balances grew by £44.5 million, a growth rate of 12%, to reach £431.3 million. This increase in retail savings balances helped to fund the rise in net mortgage lending.

The Society's growth was supported by record profits before tax of £5.2 million, compared with the previous record of £3.3 million made in 2020. This is vitally important to the Society, as it provides us with greater capital reserves to support members to achieve their financial goals.

The Society remains one of the few financial institutions in the UK that receives no wholesale funding or support from the Bank of England in the form of cheap funding. Our balance sheet is funded entirely by customer savings balances and its own capital reserves built up from retained profits over many years.