We strengthen our team with new branch manager in Cowbridge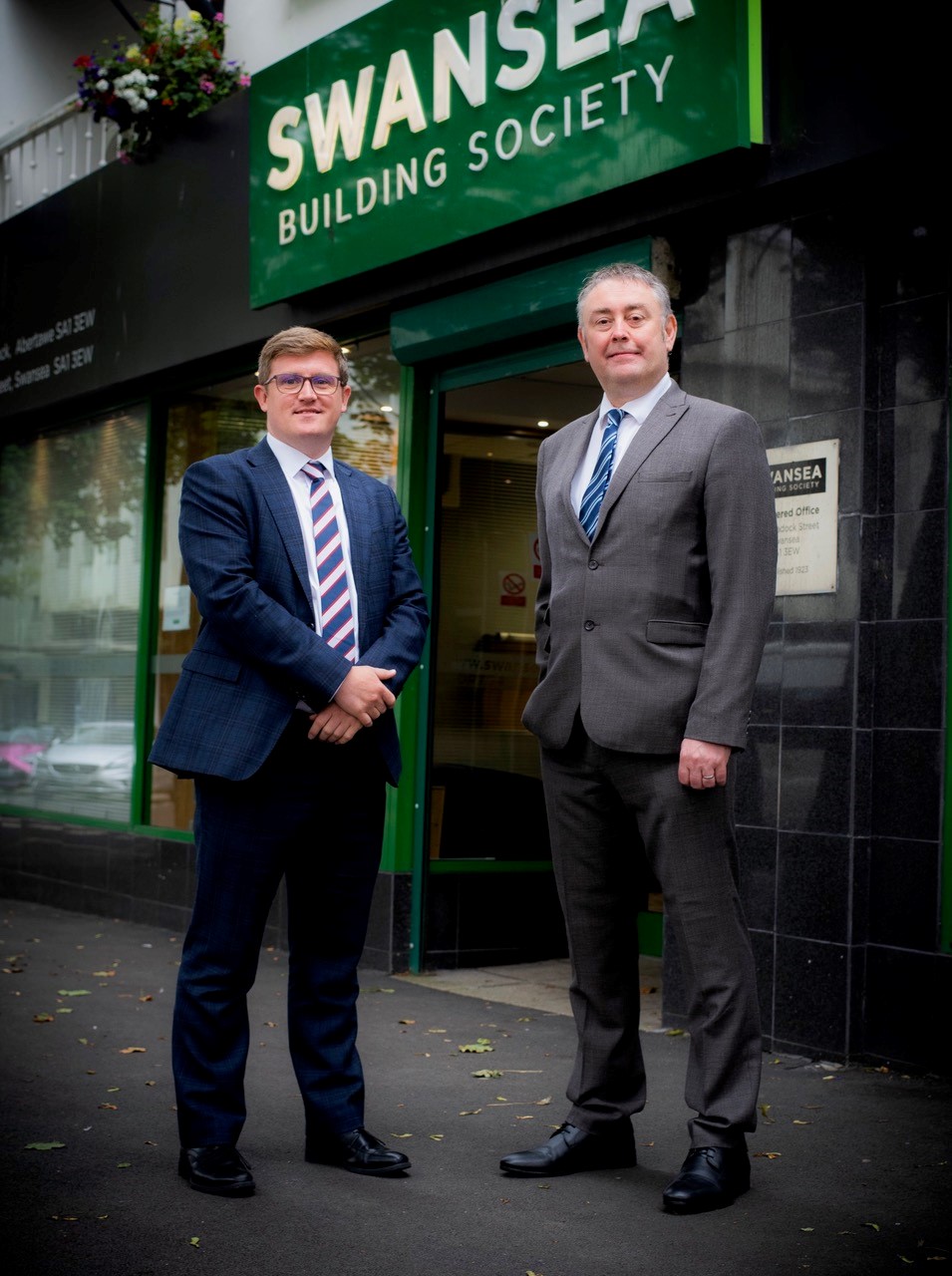 David Osterland and Richard Miles pictured outside Head Office in Swansea.
We are delighted to announce our recent appointment of a new branch manager in Cowbridge, as the branch looks to build on its recent success passing the significant milestone of £100 million in mortgage balances.
David Osterland comes to the role with six years' experience in the financial services sector, having previously worked at Check Centre.
David's remit is to further strengthen our reputation within the Cowbridge region, build on the branch's recent success, and promote our proactive approach to understanding the wants and needs of the local community.
Opened in December 2017, our Cowbridge branch has seen the benefit of four years investment and hard work by its staff – passing the milestone of £100 million in mortgage balances and over 450 mortgage accounts at the end of May 2021.
Our offering of mortgages with competitive rates, and our personalised approach to lending – by manually underwriting and not credit scoring cases – has been welcomed by customers in the South East Wales region.
David Osterland, our newly appointed Cowbridge branch manager, said:
"I am thrilled to take up the position of branch manager at Swansea Building Society's Cowbridge branch as it passes such a significant milestone in mortgage balances. I aim to build on the Society's substantial success in the region, and look forward to helping even more people in South East Wales and across the border fund the home of their dreams.
"Swansea Building Society are passionate about supporting the local community, and I will ensure the branch does its utmost to help and advise individuals and families in the personalised and professional manner it has become known for."
Richard Miles, our Area Manager and Head of Savings, said:
"We are delighted to announce the appointment of David Osterland as our new branch manager in Cowbridge.
"We invest heavily in our staff, ensuring we have the right people in the right roles, and see this appointment contributing to our continued growth in the South East Wales Region.
"Through the culmination of several years of investment, the dedication of our staff, and our commitment to our ethos of opening and not closing branches, we hope to help even more people secure finance for their dream home in the future."